Bend's Old Mill District Wears Many Fun-Filled Hats
The Old Mill District, located in the heart of Bend along the Deschtes River, is a must-visit during your stay in Central Oregon.
Once the center of Bend's thriving lumber mill operations, the area deteriorated and sat vacant until a developer stepped in to turn it around in the late 1990s. Now, it's a beautiful and vibrant mixed-use area filled with restaurants, a movie theater, local shops and national retail chains (GAP, REI, Victoria's Secret, etc.) There's also lodging there with the new Hampton Inn & Suites and Hilton Garden Inn.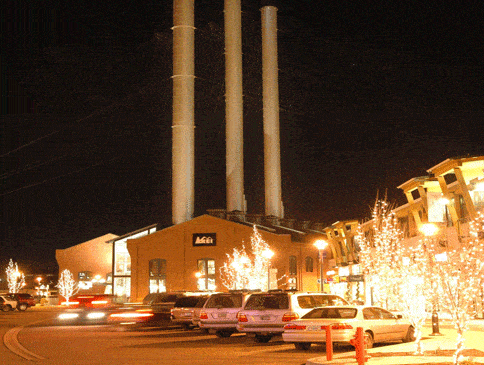 Other stories
More inspiring stories, adventures, and tips & tricks for planning and experiencing the best Central Oregon has to offer.
How to Beat the High Desert Heat

During the dog days of summer, one of your best options to beat the heat is to head up to the high lakes and splash around. But when you're on vacation with the family sometimes all you want to do is go and relax at the pool. Luckily, Central Oregon has a handful of great places to soak up the sun in between cooling off in the water.

Pumpkin Patches + Petting Zoos = Fall Family Fun

As soon as the first hint of autumn rolls around, my three kids ask on a regular basis when we can go to the pumpkin patch. This is not simply because they're eager to gather Halloween décor. To my kids (all under the age of 12), fall means visiting the farm and getting all the animal petting, ropes course playing and barbecue eating they can squeeze into one afternoon.

Adventures Abound Starting at Sunriver Resort

Sunriver is the type of place that takes your breath away no matter what season it is. During the summer you can hop on a horse for your very own wild wild west experience. The team at Sunriver Stables will make you feel comfortable on your ride, even if you've never saddled up before. Whether you're in a tube or a kayak, floating down the Deschutes River is a relaxing activity that's fun for the whole family.

Playground For All">

Deschutes River is a Central Oregon
Playground For All

You can hear them before you see them. About 30 four-legged endurance athletes chomping at the bit for another chance to prove their worth and provide you with an ear-to-ear grin that will last an entire day.

Sammies and Sandos: Central Oregon's Best Sandwiches

Sometimes after a day full of adventure, all that you crave is a simple, yet delicious, stick-to-your-ribs sandwich. (And a beer, obviously.)

Bend Area Breweries: Where to Go and What to Get

It used to be our little secret: That along with the countless recreational opportunities in Bend and Central Oregon, there was a burgeoning craft beer scene. That trying to decide which brewpub to hit after a day skiing at Mt. Bachelor was a two chairlift ride discussion. There were options. And lots of good beer.

Scenic Bikeways Showcase Central Oregon's Backroad Beauty

Oregon's official scenic bikeways are the first of their kind in the U.S – and Central Oregon is home to 6 of the state's 11 most beautiful bike routes. An absolute summer must for road cyclists are riding the best of the best – our scenic bikeways. Every rider can find a ride to suit their style and mood, from family-friendly to adventurous.