The Deschutes River was once the economic lifeblood for Central Oregon, serving as a vital tool for sawmills powering a thriving logging industry here. The industry's role in Central Oregon faded away, but the river, of course, remained. Today, it serves as a different lifeblood – for the thousands and thousands of people who use it as a playground.
How? Let us count thy ways.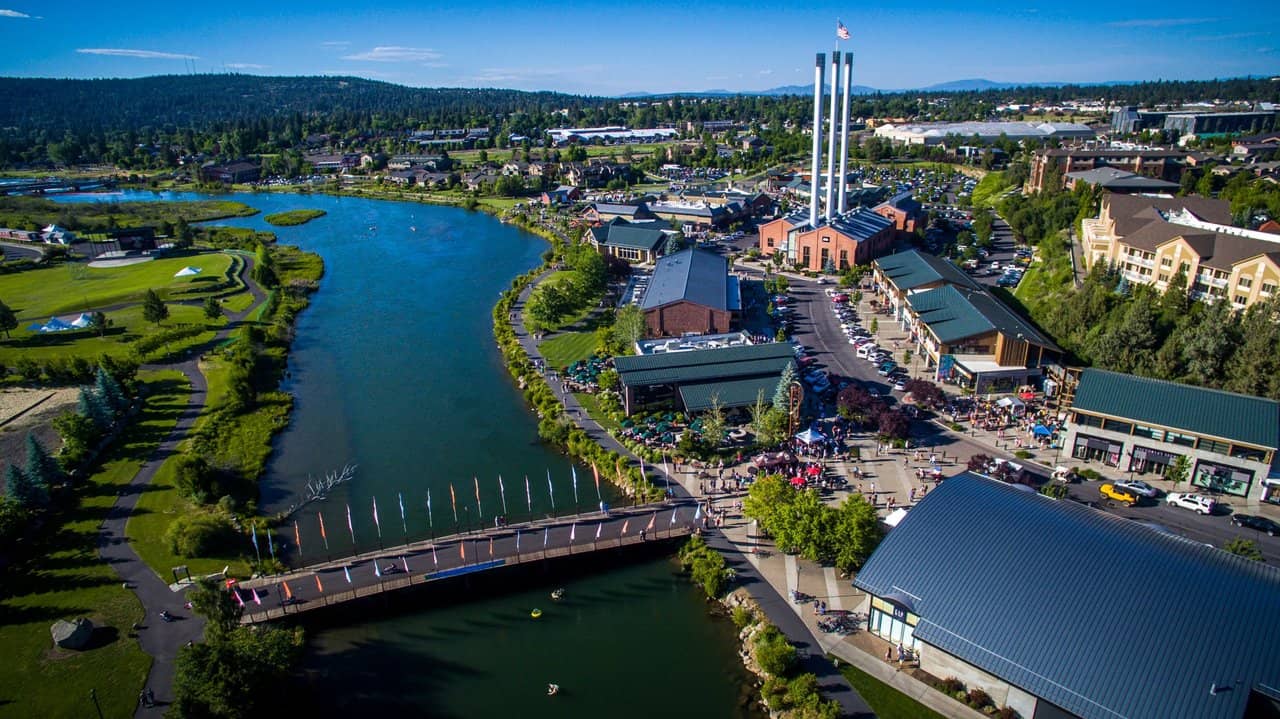 1. Float It
Floating the Deschutes River in Bend is atop the "Unofficial Rites of Summer" list. Thanks to Farewell Bend and Riverbend Parks (on opposite sides of the river) putting into the river has become easier than ever.
Here's information from Bend Parks & Rec on how to have the best and more importantly, safest, time floating the river:
"Park & Float, located next to The Pavilion on Simpson Ave. and Bradbury Way, offers everything you need to make your day on the river fun and easy. There is parking, snacks, lawn activities and more. Tumalo Creek Kayak & Canoe offers rental of durable river tubes and complimentary life jackets for children and adults. You can also rent a paddleboard, surfboard or kayak. Several floating options are possible from Park & Float.
Choose a two-hour float from Riverbend Park to Drake Park or a one-hour float from either Riverbend Park or McKay Park. For Bend Whitewater Park rapids and fun, Park & Float is only a block away.
The Ride the River shuttle begins and ends at Park & Float with stops at Riverbend Park and Drake Park. And there is bike parking on site if you want to skip a vehicle completely.
Park & Float services are available Saturday, June 15 through Monday, Sept. 2 and are weather-dependent. If poor weather, call (541) 317-9407 to see if the rental trailer is open."
2. Surf It
Yep, you read that right. The Deschutes River is home to the only whitewater play area in the state of Oregon and it's centrally located in Bend's popular Old Mill District. The waves in the whitewater park are adjustable – controlled from an iPad at the Bend Parks & Rec office up the street – so the challenge can change from day to day. Surfers and whitewater kayakers have been flocking to the area since it opened in 2015, and there's usually a crowd of folks watching from the new footbridge above. Couldn't fit your surfboard in the overhead bin? River Surf Co. is located just a quarter mile from the whitewater park and has all kinds of rental gear available, including surf boards.
3. Raft It
For the most part, the Deschutes River is a gentle, serene body of water that matches perfectly the laid back lifestyle we love here in Central Oregon. But man, there are some rip-roarin rapids on the river too that cater perfectly to the adventurous side we like to bust out every now and then. And there's no better way to experience it than Sun Country Tours' Big Eddy Thrill Ride.
4. Fish It
The Deschutes river provides world-class fishing opportunities for rainbow trout, brown trout, brook trout and steelhead from the amateur to the experienced angler. The best fishing changes throughout the year depending on hatches, restrictions, and river flows in each section (upper, middle, lower). For the best experience contact a fishing guide service and go with an expert.
5. Kayak or SUP It
In 2014 Outside Magazine named Bend and Central Oregon the best place in the world to stand up paddleboard thanks to our numerous high alpine lakes and the gentle flow of the Deschutes River. What's more, you can rent a board or kayak right on the banks of the river at Tumalo Creek Kayak and Canoe.
6. Admire It
You don't have to actually be in the water or on the water to fully enjoy the beauty of the Deschutes River. Gentle nature trails like the Deschutes River Trail can take you into the backcountry for beautiful views like this one from Benham Falls. You can pretty much drive right up to the falls viewing area or you can walk or ride your bike along the trail. There's even a bathroom.
Other stories
More inspiring stories, adventures, and tips & tricks for planning and experiencing the best Central Oregon has to offer.
Top State Parks to Visit in Central Oregon

A trip to Central Oregon is usually one with ample time spent in the great outdoors. From the expansive high desert landscape to the Deschutes National Forest and all the rivers, lakes and sometimes volcanos in between, Central Oregon is an outdoor adventurer's paradise. What better way to explore the region than to take a tour of the local state parks? To get started, check out these six state parks to get an idea of what Central Oregon is all about.

Whitewater Rafting Adventures Near Sunriver

A visit to Sunriver, Oregon calls for getting on the water and soaking up the sunshine. Sunriver is a community based around Sunriver Resort that lives and breathes outdoor recreation. Visitors from all over the world call Sunriver one of their favorite vacation destinations, and much of the reason belongs to the stretch of the Deschutes River that runs through town. When the summer sun is high in the sky, one of the best ways to cool off and get some thrills is to float a whitewater section of the river.

Pole, Pedal and Paddle Whenever You Want in Central Oregon

Every May in Bend some 3,100 people participate in the US Bank Pole, Pedal, Paddle multi-sport race. (And there's still time to sign up for this year's event, held on May 20th.)