Distillery, Tasting & Tours in Central Oregon
How gin originated in Holland instead of Central Oregon is a drink history enigma. From the shoulders of the Cascade mountains, down to the high desert's flatlands, the majority of the conifers you'll see are juniper trees. Juniper is often a classic, essential ingredient for making gin. Maybe it's the juniper that's drawn many notable distillers to the area…and inspired others to begin.
Just as Bend, Oregon has become renown as Beer Town, USA. So, too, has Bend and Central Oregon grown in its reputation as a distillery destination. With its agricultural backbone producing wheat, Central Oregon was ripe for whiskey-making. Many already on The Oregon Distillery Trail, Central Oregon micro-distilleries dot the region and continue to grow, crafting not just gin, but bourbon, vodka, whiskey–even absinthe and limoncello. From Madras to Lapine, Oregon, you can find distilleries, tasting rooms and flavor profiles that delight the palate. Explore on your own, or leave the driving to a seasoned distillery tour company so you can enjoy the ride.
Operated by Wanderlust Tours, Bend Brew Bus offers The Local Pour, the premiere, full-service craft beverage and distillery tour in Bend. Knowledgeable guides take guests behind-the-scenes of their top three distillery picks as they educate along the way. (For 10 or more people, you can book a private, customized tour.)
To get you started on your own, DIY tour of Bend distilleries, use the Bend Ale Trail map. Its "Drinkable Diversions" section toward the back of the Ale Trail 'passport' will steer you in the right direction.
Distilleries Located in Central Oregon
But first: decisions, decisions. There are countless Central Oregon's distilleries you'll need to "pour over". Here's a rundown of the top distilleries to visit in and near Bend, Oregon, starting from the north: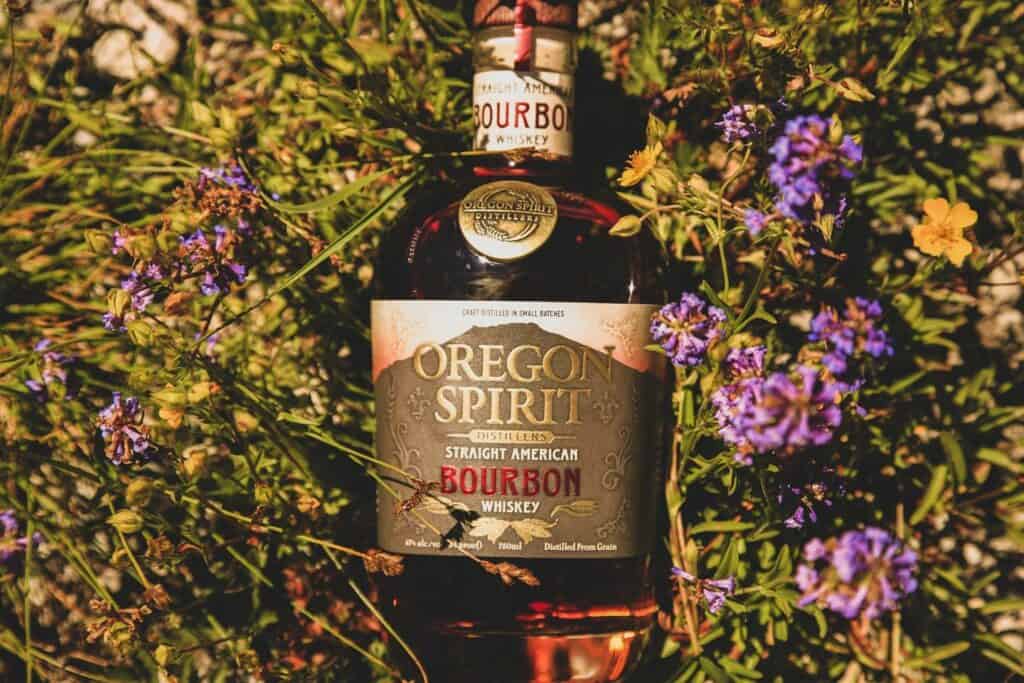 New Basin Distillery in Madras, Oregon has that neighborhood watering hole feel, just the spot to finish a hot day in the desert. Located right off of Highway 26 from Portland, it was started by two good friends who decided to try distilling, and, turns out, they had a knack for it. Any one of their spirits invites you in like an old friend simply by name: "Little Willie's Whiskey", "Strong" and "Stagger Gin". It's rumored their handcrafted, flavored balsamics make the hour drive north from Bend well worth it.
Foundry-Four Distillery is a passionate craft coffee and whiskey maker in Prineville, Oregon. Producing whiskeys in small, farm-to-table batches, this hardworking distillery with a love of Central Oregon history is a great day trip, just a 45-minute drive from Bend. Take a hike in the nearby Ochoco mountains and see Steins Pillar first!
Gompers Distillery in Redmond, Oregon. With a name evocative of and inspired by the Prohibition era, Gompers feels like you've been transported to a secret speakeasy. Small but mighty, this family-owned distillery has creative old-style and new style spirits, with tours, tasting flights and signature craft cocktails for sampling and sipping.
Cascade Street Distillery on Cascade St. (obviously) in Sisters, Oregon, is solely focused on making the best potato vodka. In their other location, a replica of the town's historical Barclay Barn, you can taste their vodka that has a unique, creamy texture and an earthy, hint of sweetness. Cascade Street is part of a conglomerate of spirits distilleries spearheaded by CascadeDistillingCompany.
A must-stop is Crater Lake Spirits Distillery (of Bendistillery) outside of Tumalo, Oregon. Home to world class, award-winning spirits, they have two locations where you can sample all of their spirits: Their massive distilling facility and onsite tasting room offer tours, just 15 minutes from downtown Bend. Or, try some of their tasty craft cocktails and flights at their downtown Bend tasting room next to Deschutes Brewery. Crater Lake Spirits is Oregon's oldest micro distillery; It's worth blocking out a couple of hours to have time to sip and sample their array of award-winning whiskeys, vodkas, gins and their rotating 'Rare' spirits – all with inspired, unparalleled flavor profiles.
Central Oregon's first still, Oregon Spirit Distillers in Bend, Oregon taps into local agriculture and boasts one of the largest whiskey barrel inventories in Oregon. Located in the true center of Bend, Oregon, this family-owned operation has expanded to offer possibly the broadest selection of spirits, from whiskey to limoncello liqueur. Open seven days a week, this distillery offers thoughtful tours, and visitors will revel in their inviting tasting room venue, including a large outdoor patio with fire pits to sip on their award-winning whiskeys.
Badlands Artisan Distillery is a spirited operation that's a welcome addition to La Pine, Oregon. 30 minutes south of Bend, and only 15 minutes from Sunriver, this small, creative craft distillery emphasizes unique flavor twists in several spirits: a cucumber gin, plum and sloe berry vodka and more. Enjoy food from their bistro while tasting.
Of course, which of these top Central Oregon distilleries resonates most for you depends on tastes, personal experience and preference. Many tasting rooms also offer signature craft cocktails to highlight the spirit of their spirits, so make sure not to miss the ones off the beaten path. (Probably not all on the same day.)
Drink responsibly, consider a drink tour…and have fun!
Explore Nature's Beauty
From the sagebrush-covered plains of the high desert to the towering pines and majestic mountain peaks, discover the diverse landscape Central Oregon has to offer.