As soon as the first hint of autumn rolls around, my three kids ask on a regular basis when we can go to the pumpkin patch. This is not simply because they're eager to gather Halloween décor. To my kids (all under the age of 12), fall means visiting the farm and getting all the animal petting, ropes course playing and barbecue eating they can squeeze into one afternoon.
This is because Central Oregon is home to more than one terrific spot to celebrate fall.
The first place for some true family fun is Smith Rock Ranch. Known for its ever-changing, intricately designed corn maze (this year is Godzilla), this ranch offers heaps of harvest amusement for all ages. Another big draw for kids is the pumpkin cannon. Who doesn't want to launch a pumpkin and see it fly? There are more activities here than you can shake a stick at, from wagon rides to archery and barnyard golf. Parents like to purchase seasonal produce from the Harvest Market too. Families can easily spend an entire day at this festive locale.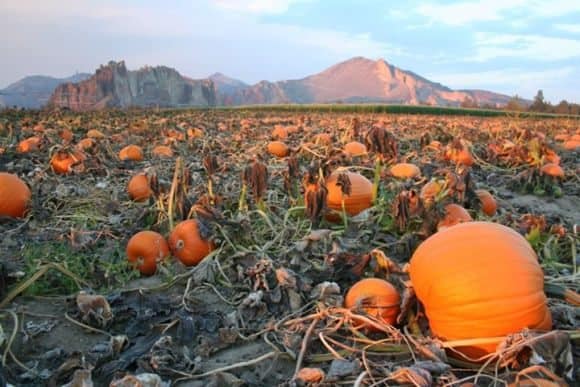 All of this is conveniently down the road from Smith Rock State Park. My family likes to take advantage of our outing with a scenic hike on one of the many trails. Because the summer heat is gone by this time, it's a great chance to walk along the river and view all of the climbers who scale the surrounding rock walls. This area never fails to astound me with its pristine beauty.
On the way home, you can stop for dinner at Terrebonne Depot. Located just minutes from Smith Rock, this American cuisine restaurant is housed in a 100-year-old former train station. Dining here is the perfect way to complete your visit to the area.
Another local favorite is DD Ranch (known to locals as the 'D and D'). Located three miles east of Terrebonne, on NE Smith Rock Way, is a quintessential family ranch complete with petting zoo, pony rides, hay maze, playground and more.
Being at the DD Ranch feels like spending the day at an old-fashioned fair complete with cotton candy, kettle corn and face painting. The kids have their run of the place as they pick their own pumpkins from the patch (everyone gets the use of a red wagon to help with their load). You can jump on a tractor-guided hayride and tour the property. There's also a place to snuggle baby bunnies and feed the lamas and chickens. The ropes course area also offers slides and lots of climbing.
What farm experience would be complete without a home cooked BBQ? The Cafe BBQ Grill will cook you a tasty hamburger or hot dog made from beef and pork raised right there on the ranch. They also cook up potato chips, made from potatoes grown right on the farm. You can even dig up your own potatoes to take home.
Our visit always includes a purchase of their 100% grass fed beef, natural pork, raw honey and farm-raised eggs. It's the easiest way to stock our kitchen with some wholesome organic food.
Other stories
More inspiring stories, adventures, and tips & tricks for planning and experiencing the best Central Oregon has to offer.
Your Guide to Biking in Redmond, Oregon

Redmond, Oregon is located in the high desert between Bend to the south and Terrebonne—home of Smith Rock State Park—to the north. The city is perfectly situated to explore Central Oregon's biking trails. As a lesser known destination for outdoor recreation, Redmond can sometimes feel like a local's secret playground, featuring tons of trails to explore. From a pump track in town to the nearly limitless access to the nearby mountain biking trails of Central Oregon, avid bikers should consider a stop in Redmond for some adventure.

The Ultimate Guide to Pumpkin Patches in Terrebonne, Oregon

Nothing signals the coming of fall quite like spending the day at a pumpkin patch. It's tough to not feel the cozy spirit of the season when you're solving a festive corn maze while bundled up and sipping a hot apple cider. Pumpkin patches in Central Oregon benefit from our desert climate and still get plenty of sunshine, even in late October. While smaller family farms all around the region will sometimes host fall events, the two most popular pumpkin patches both reside in Terrebonne: the Smith Rock Pumpkin Patch and the DD Ranch Pumpkin Patch.

How to Beat the High Desert Heat

During the dog days of summer, one of your best options to beat the heat is to head up to the high lakes and splash around. But when you're on vacation with the family sometimes all you want to do is go and relax at the pool. Luckily, Central Oregon has a handful of great places to soak up the sun in between cooling off in the water.

Central Oregon Golf: Best Par 3s

Play a good golf course and chances are that when you're back at the 19th hole, you're talking about the Par 3s. The short one you made double on. The bear where you snaked in a 20-footer for your only birdie all month. They're the "short" holes that can make or break a round. Some of the signature holes on the Central Oregon Golf Trail are Par 3s. Here's a look at some of the best.

Casual Family Weekend in Sunriver

Imagine this: you're riding your bike through a rolling meadow, the Cascade mountain range in the background, and the only sound is from the whir of a prop plane taking off against a crisp blue sky. Up ahead, your children pull carrots from their pockets and present them to a gathering of friendly horses in an adjacent pasture.

Outward Bound in the City: Central Oregon's 5 Best Urban Hikes

Hiking in Central Oregon can take you deep into the wilderness, far away from worry and stress. But sometimes all you need is a quick break from reality…just a half hour or so outside in nature, on a trail, alone with your thoughts (or with your dog, husband and two kids.) There are hundreds of hikes and trails available in and around Bend, Oregon and Sunriver, Oregon. These "Urban Hikes" are the perfect remedy to slow down our all-too-busy lives.

Winter Isn't Only About Snow in Central Oregon

It's true that when winter rolls around in Central Oregon, most people's minds veer toward things to do in the snow. With Mt. Bachelor, Hoodoo, sno-parks and more, there's plenty of options for folks to get out and play.

Get Your "Ah-Ha" Beer Moment at Sunriver Brewing Company

Central Oregon can claim more breweries than quite a few states. We're not exaggerating. Our region has 30+ breweries. That shows how much we care about craft beer but, it can make it tough to choose where to taste local brews, we get it!

Sammies and Sandos: Central Oregon's Best Sandwiches

Sometimes after a day full of adventure, all that you crave is a simple, yet delicious, stick-to-your-ribs sandwich. (And a beer, obviously.)