Sisters Outdoor Quilt Show Brings Fabric Artists to Central Oregon
Blankets keep you warm.
Quilts tell a story.
So imagine all the tales to be told at the Sisters Outdoor Quilt Show on the second Saturday of July, when the streets of this small Central Oregon town are blanketed (pun intended) with the creative tapestries woven by thousands of quilters from around the world.
For quilters, every stitch has a purpose. Each quilt has meaning. I know this because my mother is a quilter and her mom was a quilter too. I have several of her hand-sewn creations, including my personal favorite "Star T" quilt that features my name, "Ted" discreetly sewn throughout. Each of my children has their own quilt from grandma (as do a couple of their dolls.) And the "wedding quilt" is one of our most prized possessions. Some of my grandma's quilts have seen better days – a little frayed around the edges thanks to 40+ years of use. But they're no worse for wear, serving as the perfect picnic blanket, dog bed, and beach towel when called upon.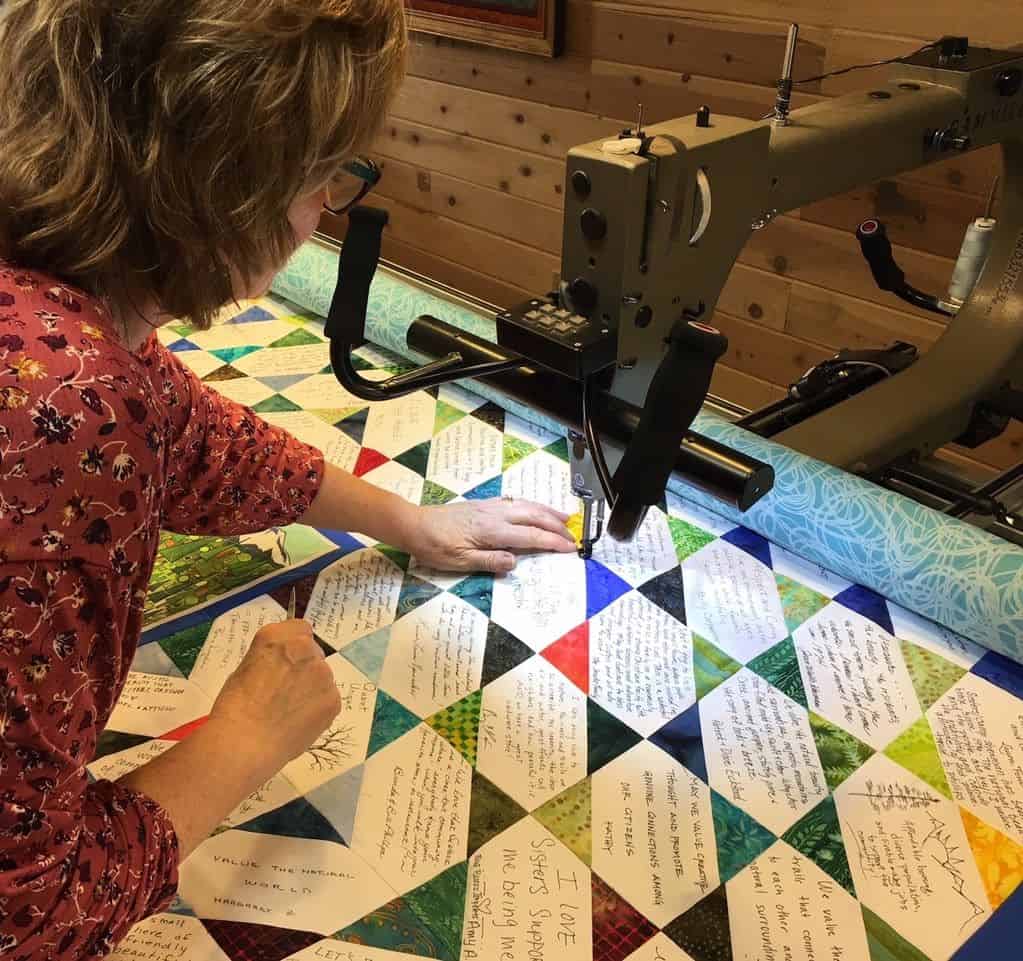 According to the Quilt Show organizers, more than 10,000 visitors from all 50 states and 27 foreign countries attend the show each year. It's a bucket list event for true quilters and paradise for those who appreciate the woven arts. (What's more, a stop at the Stitchin' Post fabric store is a must-do for quilters looking for new designs, inspiration and some pointers from local experts.)
It's a hands-on event for sure with master quilt makers teaching classes and leading workshops all week long. According to the quilt show folks, hundreds more are displayed in "show-and-tell exhibits" for first-time quilters, youth quilters and – get this – quilts made by men! The quilters range in age from 10 to 92.
Many of the quilters will be on hand near their displays to talk to you about their work. Be sure to seek them out at the next show and learn the story behind the stitch.
Other stories
More inspiring stories, adventures, and tips & tricks for planning and experiencing the best Central Oregon has to offer.
Pole, Pedal and Paddle Whenever You Want in Central Oregon

Every May in Bend some 3,100 people participate in the US Bank Pole, Pedal, Paddle multi-sport race. (And there's still time to sign up for this year's event, held on May 20th.)

Oregon Winterfest – The Perfect Cure to Shake Off Winter Blues

Every year around February, the lull of winter begins to creep in. You're cold, everything's gray despite the sun and thinking of Spring Break is starting to sound better than another day of shoveling your driveway. Luckily, every year around Presidents Day Oregon Winterfest comes along to slap the winter blues right out of us like a faceshot of fresh powder.

Airshow of the Cascades – Sky High Thrills for the Family

For 20 years, Madras has been home to one of the more unsung family events in the region, the Airshow of the Cascades. It's Oregon's second-largest air show, giving people a chance to get up close and personal to aviation history both on the ground and in the air. You'll see vintage and high-tech aircraft doing stunts and flying through a wall of fire.

Pumpkin Patches + Petting Zoos = Fall Family Fun

As soon as the first hint of autumn rolls around, my three kids ask on a regular basis when we can go to the pumpkin patch. This is not simply because they're eager to gather Halloween décor. To my kids (all under the age of 12), fall means visiting the farm and getting all the animal petting, ropes course playing and barbecue eating they can squeeze into one afternoon.

Scenic Bikeways Showcase Central Oregon's Backroad Beauty

Oregon's official scenic bikeways are the first of their kind in the U.S – and Central Oregon is home to 6 of the state's 11 most beautiful bike routes. An absolute summer must for road cyclists are riding the best of the best – our scenic bikeways. Every rider can find a ride to suit their style and mood, from family-friendly to adventurous.

Curl Up and Get Warm – Central Oregon's Cozy Romantic Getaways

With the weather making a quick turn toward winter, it's the perfect time to start thinking about creative ways to get cozy with your significant other.

Outward Bound in the City: Central Oregon's 5 Best Urban Hikes

Hiking in Central Oregon can take you deep into the wilderness, far away from worry and stress. But sometimes all you need is a quick break from reality…just a half hour or so outside in nature, on a trail, alone with your thoughts (or with your dog, husband and two kids.) There are hundreds of hikes and trails available in and around Bend, Oregon and Sunriver, Oregon. These "Urban Hikes" are the perfect remedy to slow down our all-too-busy lives.

8 Pictures That Will Have You Rethinking Some Life Decisions (Central Oregon Food Edition)

Is this plate from 5 Fusion and Sushi Bar art or food? (It's food. Definitely food.)