The Ultimate Guide to Pumpkin Patches in Terrebonne, Oregon
Nothing signals the coming of fall quite like spending the day at a pumpkin patch. It's tough to not feel the cozy spirit of the season when you're solving a festive corn maze while bundled up and sipping a hot apple cider. Pumpkin patches in Central Oregon benefit from our desert climate and still get plenty of sunshine, even in late October. While smaller family farms all around the region will sometimes host fall events, the two most popular pumpkin patches both reside in Terrebonne: the Smith Rock Pumpkin Patch and the DD Ranch Pumpkin Patch.
Smith Rock Pumpkin Patch
As the name suggests, this patch has unmatched views of the nearby Smith Rock formation, a popular area for hikers and mountain climbers. The Smith Rock Pumpkin Patch is owned and operated by the Smith Rock Ranch, a farm specializing in onion, carrot and grass seed, as well as hay, pumpkins and squash. The ranch is run by the Lisignoli family, one of the first families to start farming pumpkins in Central Oregon. Back in 1998, locals thought the family was crazy for trying to grow pumpkins, but their hard work has seriously paid off, as multiple generations of Oregon families have made it a tradition to spend their October here.
And why wouldn't they? The Smith Rock Pumpkin Patch has activities that are sure to please everyone in the family, regardless of age. Among the main attractions are the pumpkin patch and the harvest market full of fresh farm produce, raw honeys, jams, decorations and more. The huge "Corn Maize" is also a fun activity, and has a theme that changes annually. This is also the only corn maze in the area, so don't miss the chance to explore it.
Aside from the main draws, the Smith Rock Pumpkin Patch offers a Western shooting gallery, pony rides and horse-drawn carriages, pumpkin cannons, a petting zoo, barnyard putt-putt and even live music to be enjoyed as the sun sets over the ranch.
The Smith Rock Pumpkin Patch typically opens for the fall season Sept. 25, and remains open until the final day of the season. The pumpkin patch and harvest market are closed on Mondays but open every other day of the week. The other fall activities and the corn maze are only open Friday to Sunday.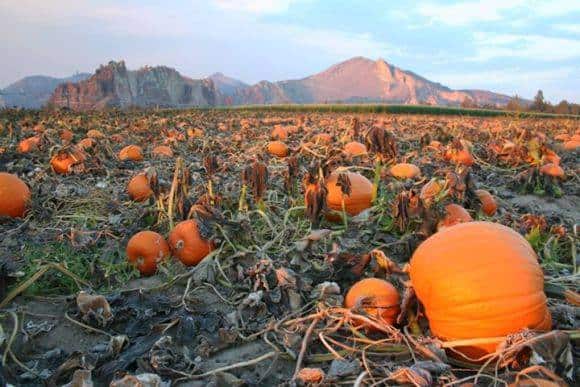 DD Ranch Pumpkin Patch
The DD Ranch Pumpkin Patch also sits near the base of Smith Rock and offers stunning sunsets over the rocks. Where the Smith Rock Ranch excels in farm-grown produce, the DD Ranch boasts some of the highest-quality meats around. None of their animals, from the cows and sheep to pigs and chickens, are raised with hormones, antibiotic feed or any other fillers. The ranch itself also swears to never use chemical herbicides, pesticides or fertilizers, in an effort to preserve the organic quality of their products. As a result, the DD Ranch market is full of high-quality, organic beef, lamb, pork, eggs and raw honey.
In addition to picking out a pumpkin at the DD Ranch, there are so many other activities the family will enjoy. These include pony and Clydesdale rides, a petting zoo, a hayride, the "Kids Korral" hay maze, a pedal go-kart course and a cowboy arcade where guests can shoot bows, bb guns and a massive slingshot.
The DD Ranch also has several food vendors offering a variety of options from hot dogs and burgers to kettle corn, popsicles, GF treats, beer and even cocktails. Treats for your furry friend are also available for purchase. 
Just like Smith Rock Ranch, the fall festivities at the DD Ranch will open on September 25 and go until Halloween. The ranch is open from Tuesday to Sunday (closed Mondays) from 10 a.m. to 5 p.m. So as the leaves start falling and the cooler weather begins to settle in, pick an afternoon and head out to a Central Oregon pumpkin patch for some fall fun.
Other stories
More inspiring stories, adventures, and tips & tricks for planning and experiencing the best Central Oregon has to offer.
Winter Tours You Have to Try in Bend and Central Oregon

Twinkling lights, fresh snow and fire pits bringing people together; it's winter in Central Oregon! Bend and the surrounding towns within Central Oregon are great places to cozy up when the snow falls, and even better places to take part in winter recreation. Locals love to explore the nearby Cascade Mountains, with Mount Bachelor and plenty of sno parks located just a 30 minute drive away. Back in town, there are several breweries, cideries, wineries and distilleries waiting to be sampled. With so much to do, it can be tough to know where to start. Luckily, tours in Central Oregon that showcase the best outdoor and indoor recreation are available to help visitors make the most of their winter vacations.

Your Guide to Biking in Redmond, Oregon

Redmond, Oregon is located in the high desert between Bend to the south and Terrebonne—home of Smith Rock State Park—to the north. The city is perfectly situated to explore Central Oregon's biking trails. As a lesser known destination for outdoor recreation, Redmond can sometimes feel like a local's secret playground, featuring tons of trails to explore. From a pump track in town to the nearly limitless access to the nearby mountain biking trails of Central Oregon, avid bikers should consider a stop in Redmond for some adventure.

Best Hot Springs in Central Oregon, Bend & Beyond

Oregon is known for being an outdoor paradise; where else can travelers discover misty forests, snowy mountain peaks and vast desert expanses in one day? From the Cascade Mountains to the Painted Hills, volcanic activity has helped shape the many different landscapes of Oregon. Along with mountains and valleys, Oregon's volcanic past helped create a host of hot springs scattered across the state. These hot springs are natural, hot pools of water—natural hot tubs. Some are more developed and have lodging nearby, while others feel completely remote and undiscovered. So whether it's a soak under the stars in the high desert or a steamy pool in the forest, there's a hot spring calling.

Finding the Best Lunch Spots in Bend, Oregon

As Bend grows, so do the tasty options for a great lunch at a great price. With so many restaurants new and established to choose from, the only question is where to begin. Lucky for you, we've made finding the best lunch in Bend a breeze.

Top 5 Tours to Take in Bend, Oregon

Bend is a nature-lover's paradise blended with a hop-head's dream; nowhere else will you find this much craft beer and this many outdoor activities. The city's been growing quickly, reaching 100,000 residents in 2020, and with the growth comes plentiful opportunities for adventure. From walking the very halls that brew your favorite beer to any number of adrenaline-inducing sports, we have you covered for the five best types of guided tours in Bend, Oregon.

Accessible Adventure: Easy Hikes for Families near Bend, Oregon

There are so many great hikes in Central Oregon, it can be tough to choose where to start. For beginner hikers or families here's a couple of easy to get to – and more importantly – easy to conquer starter-hikes. Flanking the Deschutes River near Bend's Old Mill District, the Deschutes River Trail is a 3-mile loop that starts near Farewell Bend Park.

Pumpkin Patches + Petting Zoos = Fall Family Fun

As soon as the first hint of autumn rolls around, my three kids ask on a regular basis when we can go to the pumpkin patch. This is not simply because they're eager to gather Halloween décor. To my kids (all under the age of 12), fall means visiting the farm and getting all the animal petting, ropes course playing and barbecue eating they can squeeze into one afternoon.

Outward Bound in the City: Central Oregon's 5 Best Urban Hikes

Hiking in Central Oregon can take you deep into the wilderness, far away from worry and stress. But sometimes all you need is a quick break from reality…just a half hour or so outside in nature, on a trail, alone with your thoughts (or with your dog, husband and two kids.) There are hundreds of hikes and trails available in and around Bend, Oregon and Sunriver, Oregon. These "Urban Hikes" are the perfect remedy to slow down our all-too-busy lives.

Mt. Bachelor is a True Family Ski Experience in Central Oregon

Three-hundred and sixty degree views of snow-covered peaks don't come easy. Unless you're in Central Oregon, in that case, they do! Mt. Bachelor is just a 30-minute drive from Bend or Sunriver.

Cascade Lakes Scenic Byway: Pull Off For a Central Oregon Adventure

The Cascade Lakes Scenic byway is one of the prettiest drives in the U.S. But it might be the most recreationally rich road you'll ever drive too. From Bend southwest to the Highway 58 junction, the Oregon Route 372 cuts through 66 miles unique volcanic formations and geological beauty that offers everything that makes Central Oregon an outdoor lover's paradise.