Bend is a nature-lover's paradise blended with a hop-head's dream; nowhere else will you find this much craft beer and this many outdoor activities. The city's been growing quickly, reaching 100,000 residents in 2020, and with the growth comes plentiful opportunities for adventure. From walking the very halls that brew your favorite beer to any number of adrenaline-inducing sports, we have you covered for the five best types of guided tours in Bend, Oregon.
1. Bend Brewery Tours
Occasionally around town, you'll hear Bend referred to as "Beervana" or "Beertown USA," and for good reason. Bend has one of the highest concentrations of craft breweries in the country, boasting a brewery for every 3,000 residents. That number is constantly changing due to the growth of the city and the addition of new breweries every year, but rest assured that there's plenty of beer to go around. Mix in the dozens of cideries, distilleries and kombucha brewers, and Bend has a variety of craft brews that rivals any major U.S. city. Thirsty yet? Check out some of our favorite brewery tours below, and be sure to explore all the great breweries and cideries in Bend year-round.
The Bend Ale Trail takes participants through a mind-boggling 24 different breweries across town (and beyond) in seven distinct territories. This is less of a guided tour, and more of a checklist that you can mark off throughout your stay in Bend. Each stop on this massive excursion has a paired recommended activity; a stop at Monkless Belgian Ales near the Old Mill pairs well with a quick kayak tour of the nearby Deschutes River, for example. Using these pairings, visitors can plan their trip to Bend around both trying new brews and mixing things up with outdoor activities. Each stop also comes with a chance to get a pass on your beer passport, and each complete territory sampled provides guests with surprise prizes. To keep things responsible, the Bend Ale Trail also rewards designated drivers with a prize of their own.
The Cycle Pub of Bend offers a combination of two Bend favorites: cycling and drinking. The Cycle Pub, a fourteen-passenger bike/bar combo that is actually powered by pedals, takes participants to Silver Moon Brewing, a Cycle Pub sponsor, and allows guests to weigh in to plan the route from there, allowing a group to plan out a two-hour excursion on the fly.
Another option is the Taste of Bend Tour, offered by Let It Ride eBike Tours. Another two-hour excursion, this tour is a guided tasting experience from the seat of an easy-pedal electric bike. The professional guide will lead you through Bend's neighborhoods to find scrumptious bites and of course, sips of your favorite craft drinks.
2. Helicopter Tours in Bend, Oregon
You read that right. Tours in Central Oregon and more specifically, the views they offer, are mostly limited by how high in elevation you go, or if you find clearings with great views. However, visitors to Bend can forgo these restrictions and get the best views possible from the seat of a helicopter. Here are some reliable options to get a bird's-eye-view of Bend and the surrounding natural landscape.
Fly Cascades offers a selection of helicopter tours year-round, depending on what guests are in the mood for. Flights are offered that showcase the city itself, the nearby volcanic flow that looks like a black river frozen in time, the nearby Cascade Mountain peaks and even a flight dedicated to spotting Sasquatch. For avid photographers, be sure to book a flight with the doors intentionally kept open so you can take some of the most amazing aerial snapshots while safely strapped into your seat.
3. Bend Bike Tours
Would it really be a trip to Bend if you didn't ride a bike? Bike tours in Central Oregon come in two main varieties: mountain biking and road cycling. Here in Bend, you can experience both.
Wheel Fun Rentals (open mid-March through October) offers a self-guided bike tour through the Old Mill that takes approximately two to three hours to complete. Pedal to your heart's content through tunnels painted with colorful murals, bridges overlooking the Deschutes River, and get the chance to explore one of the most popular areas in Central Oregon. Alternatively, this trip is available with electric bikes, as well. These bikes allow you to adjust your resistance level, allowing you to cater the bike to your needs. Whether you want a workout or a leisurely ride, they've got you covered.
If you're ready to leave the city limits and check out all that amazing mountain biking you've heard so much about, check out Cog Wild, a tour company offering guided rides through scenic mountain trails (May to October, depending on snowpack). A family business, Cog Wild offers guided tours for riders of all ages and skill levels, and even offers some tours that are specifically designed to teach a certain skill; whether that be riding switchbacks, cornering with some speed or jumping the bike through the air, your guide will help you learn along the way. A particularly exciting ride, and one that your friends will be impressed with, is the tour that takes riders all the way from Mount Bachelor to Bend. This ride is up to six hours in length and can be catered to your group's skill level. Along with the professional guide, the ride comes with sandwiches from a local bakery, healthy and locally made snacks, a Cog Wild water bottle and complimentary craft drinks from both Deschutes Brewery and Humm Kombucha.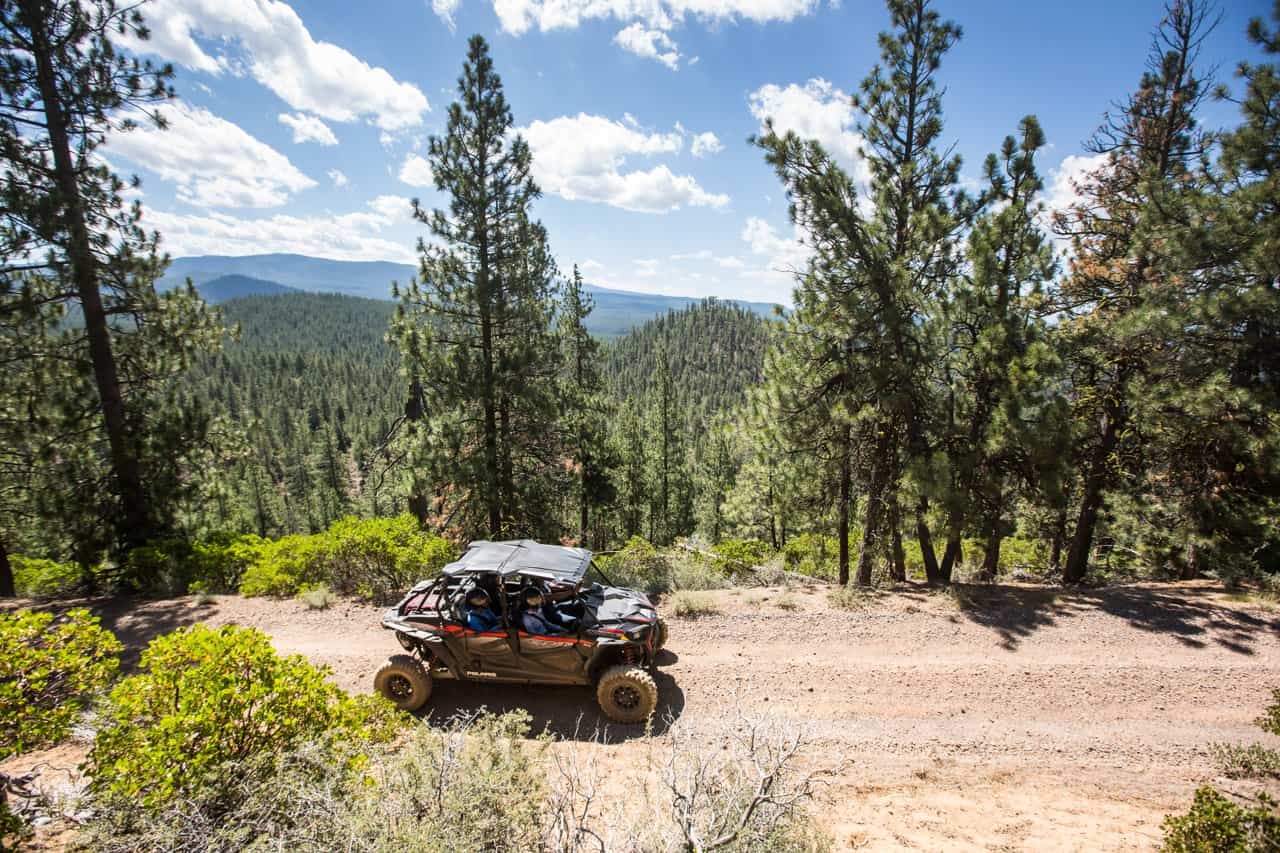 4. Off-Road ATV Tours in Bend
As an outdoor paradise, much of the landscape around Bend, from the Deschutes National Forest to the expanses of the high desert, still feels undiscovered. So much of this land can be experienced by taking the path less traveled, even if that path is bumpy and uneven. There are plenty of options for off-road ATV tours in Bend; one of the most fun things to do in Central Oregon.
The Bend Tour Company, in collaboration with Outriders NW, offers several guided off-roading adventures for the whole family each summer. The tours take groups through the scenic Cascade Lakes, the Deschutes National Forest, expanses of lava rock to the south, the Bend Badlands to the east or through high desert terrain. That last tour, the high desert one, is actually a full-day experience that includes cave exploration and plenty of opportunities to walk around and take in the amazing views.
For more options, the Octane Rental Company offers ATV rentals for self-guided adventures.
5. Bend Whitewater Rafting Tours
Whitewater Rafting in Central Oregon should be on any would-be visitor's bucket list for the summer. Here in Bend, where the mighty Deschutes runs through, there are more than a few options for a guided, adrenaline-inducing whitewater adventure.
Sun Country Tours is a trusted name, and they offer several options for whitewater fun from Bend. While most of the whitewater sections of the Deschutes exist outside of Bend, all of these tours depart from Bend, making them easy inclusions in your Bend itinerary. The Big Eddy Thriller and the Raft N' Brew (the same float as the Big Eddy Thriller plus beer tastings) are both popular options that can be squeezed into an action packed, multi-sport day. Both trips are guided by a professional who'll navigate the river and show your group safety techniques on the rapids so you can responsibly enjoy the thrill. Sun Country also offers larger guided floats, such as the All Day Adventure and Mckenzie Magic, which take about nine hours and seven hours, respectively, and both depart from Bend.
For another whitewater option, the Seventh Mountain River Company offers a guided tour of Big Eddy, as well. Similar to Sun Country, this tour comes with a professional guide who will help you navigate all of the rapids, from the trivial class I rapids to the exhilarating class III sections.
Whichever way you choose to explore this amazing not-so-little town, don't forget some basic rules: be sure to leave no trace, pay attention to all safety instructions, and have fun!
Other stories
More inspiring stories, adventures, and tips & tricks for planning and experiencing the best Central Oregon has to offer.
The Central Oregon Mural Trail

Large-scale, hand painted murals have been growing in popularity in Central Oregon communities in recent years, following the updated city codes (the moral - more murals in public spaces). These bright engaging murals not only bring new life and color to once drab building walls, but they provide the communities and visitors with a sense of pride for their natural surroundings. And let's not forget, they make great selfie backgrounds!

Winter Tours You Have to Try in Bend and Central Oregon

Twinkling lights, fresh snow and fire pits bringing people together; it's winter in Central Oregon! Bend and the surrounding towns within Central Oregon are great places to cozy up when the snow falls, and even better places to take part in winter recreation. Locals love to explore the nearby Cascade Mountains, with Mount Bachelor and plenty of sno parks located just a 30 minute drive away. Back in town, there are several breweries, cideries, wineries and distilleries waiting to be sampled. With so much to do, it can be tough to know where to start. Luckily, tours in Central Oregon that showcase the best outdoor and indoor recreation are available to help visitors make the most of their winter vacations.

Top 5 Tours to Take in Sunriver, Oregon

Sunriver is an aptly named town; the idyllic community soaks up tons of Central Oregon sun and has the mighty Deschutes River meandering through. It's tough to not feel the magic of Sunriver when rays of light first break over the not-so-distant Cascade Mountain peaks and dance on the tips of ponderosa pines in the surrounding Deschutes National Forest. Central Oregon tours are popular for visitors and locals alike, and for good reason. With four distinct seasons, Sunriver is primed and ready for exploration any time of the year. From snowmobiling to horseback riding, here are the best ways to discover Sunriver.