In the summer of 1988, Deschutes Brewery opened in a converted law office in downtown Bend. In the decades since, the brewery has produced one memorable beer after another—from Black Butte Porter and Mirror Pond Pale Ale in Deschutes' earliest days to the hit Fresh Squeezed IPA, which became a staple on store shelves in 2013.
But, as the temperatures fall and leaves turn color every autumn, another Deschutes mainstay takes center stage: Jubelale.
Deschutes' winter ale debuted just months after the pub opened in 1988 and has since become a holiday tradition, known for a festive mix of caramel, toffee, and cocoa—all while winning a dozen awards at beer competitions around the world since 1990.
Thirty years later, other breweries have gotten in on the fun and produce their own takes on the style. As such, winter ales are a hallmark of the season—often incorporating seasonal ingredients and offering a rich flavor profile.
So as the Cascade peaks don coats of winter snow and temperatures continue to fall around Central Oregon, here's everything you need to know about thirst-quenching winter ales.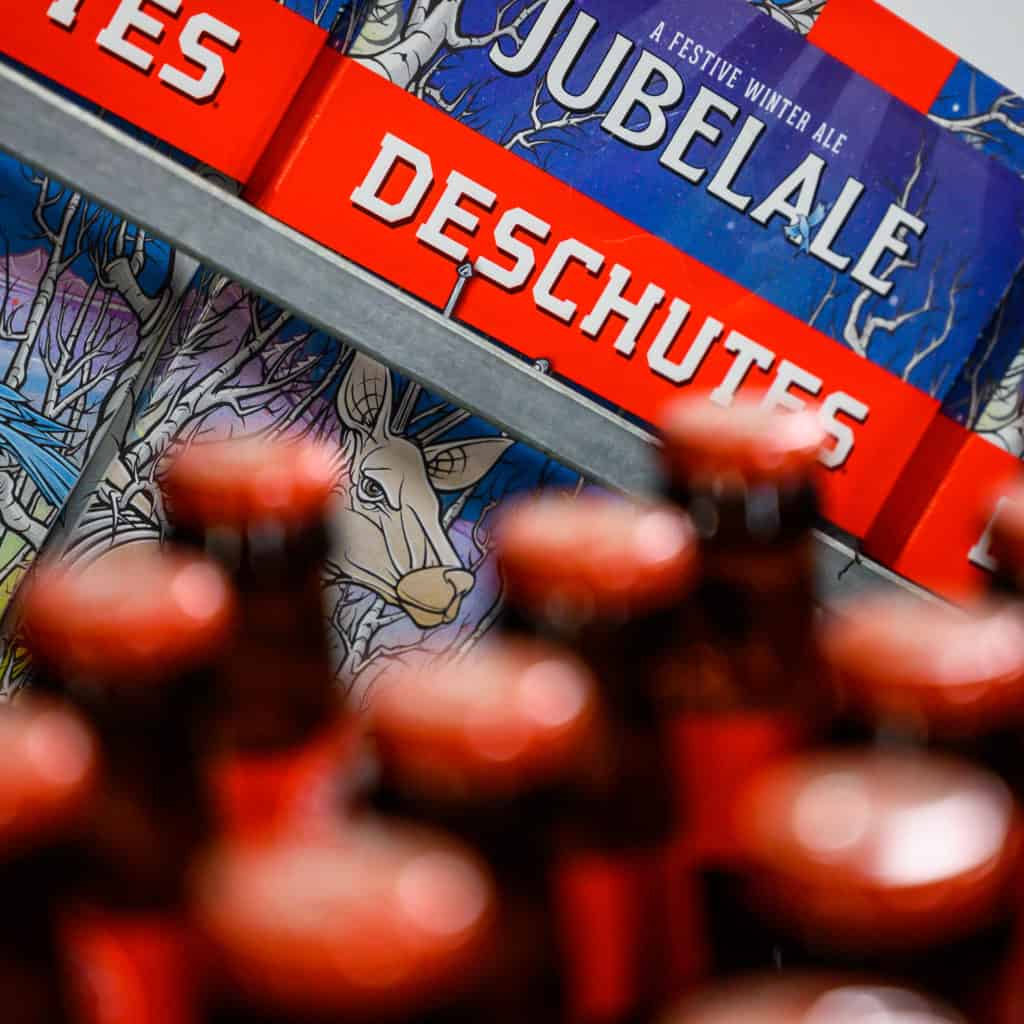 What is a Winter Ale?
Deschutes might have made Jubelale a flagship in its earliest days, but the style has been a brewers' favorite for hundreds of years. That said, there are no set guidelines for what exactly makes a winter ale.
Generally speaking, winter ales are darker than spring and summertime seasonal beers, with a higher-than-usual alcohol content. And, in brewing winter ales, most breweries put maltiness front and center—so you'll probably notice nutty and bready flavors, along with occasional notes of coffee or caramel. Brewers might also add fruit—like raisins or orange peel—or wintry mulling spices—like nutmeg and cinnamon—for a slightly more complex flavor profile.
Where else can I find winter ales
around Central Oregon?
Jubelale might be the biggest and best-known winter ale in Central Oregon, but it's far from the only option.
If you're looking for a cool taste of winter, here are a few other breweries putting their own spin on the versatile style.
Cascade Lakes Brewing Company – Slippery Slope: The second-oldest brewery in Central Oregon produces a full-bodied beer with hints of chocolate and roasted malts.
Monkless Belgian Ales – Friar's Festivus: IPAs might dominate tap handles throughout the Pacific Northwest, but Bend's Monkless Belgian Ales made a name for itself by eschewing the style altogether in favor of Belgian-inspired ales. And its Belgian-style quadruple ale showcases that devotion to unconventional styles with fruity notes, a hint of spiciness, and a slightly sweet caramel flavor.
Sunriver Brewing Company – Shred Head seasonal ale: Sunriver's only brewery packs a punch with its UK-style winter warmer, brewed with brown sugar and featuring strong malty notes, a slightly piney finish, and hints of caramel.
10 Barrel Brewing Co. – Pray For Snow: Bend's 10 Barrel Brewing Co. rings in winter each year with Pray For Snow, sporting subtle raisin and molasses flavors alongside notes of caramel and vanilla.
Bend Brewing Company – Sno'd In Winter Ale: Bend's second-oldest brewery serves a winter ale heavy on holiday spices, with notes of nuttiness and hints of cocoa.
Note: This is by no means a comprehensive list of Central Oregon breweries producing winter ales. Reach out to your favorite brewery to see if they're producing a winter ale this year.
What other styles should I try this winter?
Winter ales aren't the be-all, end-all of holiday beers. Several Central Oregon breweries produce red ales, stouts, porters,
and other styles for making the most of those long, cold nights. Here are some palate-pleasing favorites:
GoodLife Brewing Company – Pass Stout: Dark beers are popular winter standbys, and few breweries do them better than GoodLife Brewing Company. The Bend brewery's stout offers a smooth, easy-drinking mix of roasted malts, chocolate, and hints of coffee.
Three Creeks Brewing Company – Rudolph's Imperial Red Ale: Sisters' only commercial brewery goes big for the holidays, producing an imperial red ale that's heavy on malty sweetness (most pronounced in the beer's caramel and toffee flavors).
Deschutes Brewery – The Abyss imperial stout: Jubelale isn't Deschutes only winter seasonal. Every fall, the brewery releases The Abyss, an imperial stout that brings together a menagerie of flavors—offering hints of molasses, licorice, and cocoa.
Kobold Brewing – various beers: Owner Steve Anderson prides himself on having a dark beer on tap at all times, so his Redmond taproom offers a taste of winter all year long. The ever-rotating tap list means you might catch an imperial stout, a velvety Baltic porter, or a black IPA (also known as a Cascadian dark ale).
Other stories
More inspiring stories, adventures, and tips & tricks for planning and experiencing the best Central Oregon has to offer.
Casual Family Weekend in Sunriver

Imagine this: you're riding your bike through a rolling meadow, the Cascade mountain range in the background, and the only sound is from the whir of a prop plane taking off against a crisp blue sky. Up ahead, your children pull carrots from their pockets and present them to a gathering of friendly horses in an adjacent pasture.

8 Pictures That Will Have You Rethinking Some Life Decisions (Central Oregon Food Edition)

Is this plate from 5 Fusion and Sushi Bar art or food? (It's food. Definitely food.)

Get Your "Ah-Ha" Beer Moment at Sunriver Brewing Company

Central Oregon can claim more breweries than quite a few states. We're not exaggerating. Our region has 30+ breweries. That shows how much we care about craft beer but, it can make it tough to choose where to taste local brews, we get it!

Elk Lake Resort a Great Winter Getaway – And Getting There is Half the Fun

There's a couple of ways to look at the annual winter closure of Cascade Lakes Scenic Byway: You can see it as cutting off your recreational access beyond the gate until the snow melts in the spring.

Brew it Yourself at Bend's Immersion Brewing

Central Oregon's thriving craft beer scene is a hugely popular experience for visitors to the High Desert. You can drink it. You can take a brewery tour and learn about it. And now, you can brew it yourself.

Grab a Pint & Catch a Game Central Oregon Style

Yes, Central Oregon is known as an outdoor adventure paradise where hiking, mountain biking and skiing are a way of life and the reason many people visit. But sometimes your team's got a big game. And all you really want to do – even on your vacation – is find a great spot to watch it with a few more diehard fans.

Bend Area Breweries: Where to Go and What to Get

It used to be our little secret: That along with the countless recreational opportunities in Bend and Central Oregon, there was a burgeoning craft beer scene. That trying to decide which brewpub to hit after a day skiing at Mt. Bachelor was a two chairlift ride discussion. There were options. And lots of good beer.

Seven Stunning Central Oregon Landmarks—and the Beers Named In Their Honor

Is there a more quintessential Central Oregon experience than spending a day outdoors—and topping it off with a locally brewed beer at one of the region's many craft breweries?