Ben & Jerry's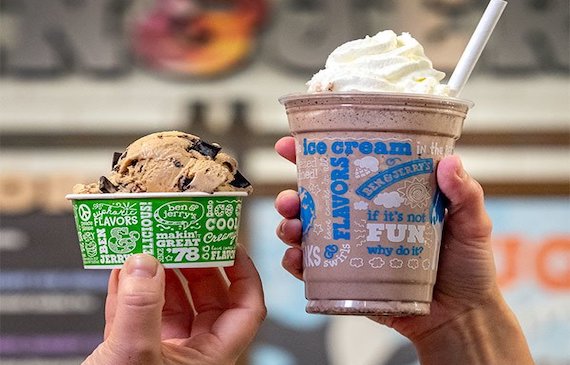 Want to have your Ben & Jerry's ice cream the way it was originally intended? Head into our locally owned and operated Bend Ice cream shop and dig into any of our euphoric ice cream flavors in the way the first scoops were served up by Bend and Jerry themselves.
What's a celebration without dessert? Or a Monday without ice cream? No fun, that's what. Ben & Jerry's ice cream cakes are the perfect choice for office parties, Mother's Day, Father's Day, Valentine's Day, graduation parties, birthdays, or just because! Ordering your ice cream cake is as easy as, well, cake! Get your party started and visit us in the Old Mill District in Bend, Oregon.
Office party coming up? Lobby event in your office building? Birthday party? Even a wedding? Aren't you bored with the same old same old taco bar or tired sheet cake? Ben & Jerry's Ice Cream Catering specializes in serving your favorite flavors in cups, cones, and sundaes to turn your next gathering into an ice cream extravaganza. We show up and do it all—all you do is eat ice cream and party on.
Ben & Jerry's operates on a three-part mission that aims to create linked prosperity for everyone that's connected to our business: suppliers, employees, farmers, franchisees, customers, and neighbors alike. Ben & Jerry's is founded on & dedicated to a sustainable corporate concept of linked prosperity. Our mission consists of 3 interrelated parts: Our Economic Mission asks us to manage our Company for sustainable financial growth. Our Social Mission compels us to use our Company in innovative ways to make the world a better place. Our Product Mission drives us to make fantastic ice cream – for its own sake.
Ben & Jerry's History:
From a renovated gas station in Burlington, Vermont, to far-off places with names we sometimes mispronounce, the journey that began in 1978 with 2 guys and the ice cream business they built is as legendary as the ice cream is euphoric. With a $5 correspondence course in ice cream-making from Penn State and a $12,000 investment ($4,000 of it borrowed), Ben and Jerry open their first ice cream scoop shop in a renovated gas station in Burlington, Vermont.
In 1979, Ben and Jerry celebrate the shop's one-year anniversary – and the customers who made it possible – by holding the first-ever Free Cone Day: free scoops for all, all day long. The annual ice cream give-away continues today in scoop shops around the world. Ben and Jerry rent space in an old spool and bobbin mill on South Champlain Street in Burlington and begin packing their ice cream in pints. The reason? To distribute to grocery and Mom & Pop stores along the restaurant delivery routes Ben services out of the back of his old VW Squareback wagon.
1987: Ben & Jerry's introduces Cherry Garcia® ice cream. Named for Grateful Dead guitarist Jerry Garcia at the suggestion of two "DeadHeads" from Portland, Maine, Cherry Garcia® becomes the first ice cream named for a rock legend!