Erickson Aircraft Collection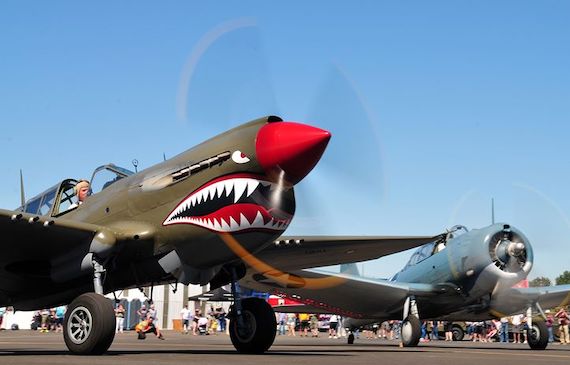 About Erickson Aircraft Collection
Recommended by TRIP ADVISOR, The Erickson Aircraft Collection proudly displays a vintage aircraft collection started by Jack Erickson in 1983. The collection features over twenty-five rare aircraft, most of which are still in flying condition, such as the P-38 Lightning, P-51 Mustang, Ki43 Hayabusa, F4U Corsair, SBD Dauntless, Grumman Duck, Me-109, FW-190, B-17 Flying Fortress, and many more. The Erickson Aircraft Collection is the Pacific Northwest's premier Flying Collection.
The museum features one of the top collections of vintage warbirds in the country and offers a ride/membership program called "Soaring with the Warbirds". Take a ride in a WWII aircraft and experience history in flight. Our top-notch pilots fly you out over areas such as Lake Billy Chinook, up close and personal with Mt. Jefferson, Haystack Reservoir, Lake Simtustus, Smith Rock, or where ever you want to fly within our 20-minute time limit. In the air, you can experience the beauty of Central Oregon from a totally different perspective and have the experience of a lifetime.
Location:
We are located at the Madras Municipal Airport on NW Berg Drive. To get to the hangar, take the NW Cherry Lane exit just off highway 26 and turn right on NW Berg. If you are navigating to the museum using Google Maps or other mapping services, just type in "Madras Municipal Airport" and follow NW Berg all the way down. In most cases, NW Airport Way has yet to be changed to NW Berg.
We are part of the annual Airshow of the Cascades which started more than 30 years ago when pilot Ron Ochs held "fly-ins" at his ranch just north of Madras. One plane at a time and through homegrown hard work, the Airshow now draws upwards of 15,000 people. The airshow is scheduled the last weekend of August every year. Come join us for a weekend of fun!