Old Back Nine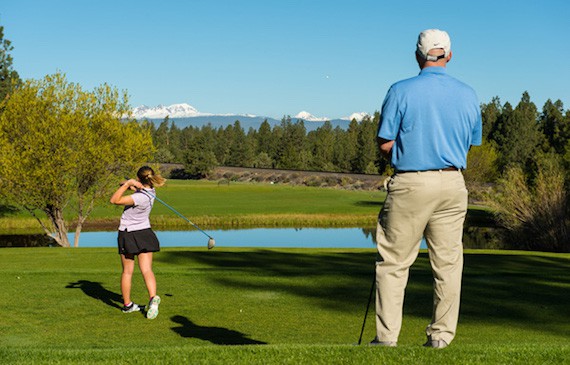 The Old Back Nine is a family-friendly, 9-hole public course, featuring top notch playing conditions and stunning mountain views.
The Oregon Golf Association rated our course in June 2015, allowing golfers with a handicap index the ability to post their scores. The Old Back Nine Men's and Women's Clubs are also available for golfers seeking social play and tournaments. Contact us to learn more about this exciting offering.
At the Old Back Nine Clubhouse you'll find a friendly team of golf enthusiasts ready to assist with rentals, information and tee times. Soft drinks, snacks and a selection of beer including local craft brews are available. All golfers are welcome to enjoy our practice green and picnic tables, situated in a welcoming outdoor area.
Are you looking for a beautiful backdrop for your next fun occasion on the links? We welcome special event reservations. Please give us a call at 541-382-1111 to discuss your vision for family reunions, wedding/bachelor parties and other group events.
Nestled among towering Ponderosa pines on the southern end of Bend, you'll soon make the Old Back Nine course a must play.
We are the only nine hole golf course in Bend, Oregon creating a pace of play that is fun for golfers of every age. Centrally located on Bend's south side, the Old Back Nine is a favorite for residents and tourists alike.
With course conditions to both challenge and delight players, time spent on the links offer a picture perfect backdrop and many good reasons to return. Scenic shots will have you swinging toward the cascade mountain range.
Known for our family-friendly atmosphere, we encourage players to get out on the links together to golf in Bend, Oregon. Call our friendly team at 541.382.1111 to schedule your next opportunity to create special memories while building on a fun tradition.