Elk Lake Resort a Great Winter Getaway – And Getting There is Half the Fun
There's a couple of ways to look at the annual winter closure of Cascade Lakes Scenic Byway: You can see it as cutting off your recreational access beyond the gate until the snow melts in the spring.
Or – and this viewpoint is recommended – you can see it as as a chance for a new experience in nature and explore some of the most breathtaking backcountry the state of Oregon has to offer.
And there's no better way to do that than to make plans to visit Elk Lake Resort for your family's next winter adventure.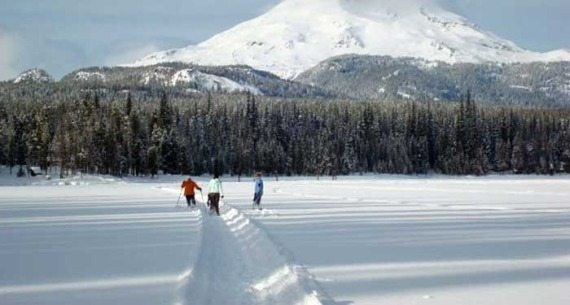 Remember – there's no "road" to Elk Lake in the winter because the department of transportation doesn't maintain the highway when it snows. Still, there's several ways to get there and never has the old saying "getting there is half the fun" been more true.
The easiest way is to have one of the resort's fleet of Suburbans-turned-snowcats pick you up from Dutchman Flat Sno-Park directly across from Mt. Bachelor or Mt. Bachelor's parking lot on Friday afternoon and bring you back on Sunday. The most peaceful (albeit sweatiest) way is to Nordic ski to the lodge from Dutchman. The most thrilling way is to ride your own snowmobile in on the 11-mile groomed trail from Dutchman Flat. It's not often in life you're able to spend the weekend in a spot inaccessible by cars.
Central Oregon Adventures also rents snowmobiles and sets up shop at the Wanoga Sno-Park, located on Cascade Lakes Highway about 15 miles from Bend. You can rent for a couple hours, four hours or all day. The four-hour rental window gives you plenty of time to do some exploring and stop by the Elk Lake Resort lodge for some food.
The historic lodge is a perfect spot to warm up during a day in the backcountry. The menu has locally sourced, Pacific Northwest inspired meals including elk chili, burgers, mac and cheese and more. And, of course, you can cozy up to the fire with a hot cocoa or catch some football with one of the numerous Central Oregon craft brews on tap.
But for most folks, a few hours isn't long enough at Elk Lake. For the hearty souls looking to spend the weekend in the winter wilderness, the resort offers deluxe homes, rustic cabins or camping cabins to extend your stay. Some of the cabins include full kitchens and are the perfect spot for large groups to hang together for the weekend.
What you do during your time at Elk Lake is up to you. Rent a snowmobile from the resort and head out into the powder. Take a hike with some snowshoes. Or venture out on the nordic skis you rented for the weekend from Mt. Bachelor. (The resort does not have ski rentals, so be prepared.)
Or, if you want to stay snuggled up inside your cabin all weekend, that's perfectly fine too.
So find a way to get to Elk Lake this winter and get away from it all.
That road will be back open in no time.
Other stories
More inspiring stories, adventures, and tips & tricks for planning and experiencing the best Central Oregon has to offer.
Central Oregon Campgrounds: Tumalo State Park

Forested setting: Check. Gentle flowing river to cool off in: Check. Toilets: Check. Showers: Check. Access to amenities in town: Check, check and check. Tumalo State Park is the state park in Bend's backyard. It's located outside the city limits but it's just a couple of turns and a short, pretty drive from the middle of town.

How to Beat the High Desert Heat

During the dog days of summer, one of your best options to beat the heat is to head up to the high lakes and splash around. But when you're on vacation with the family sometimes all you want to do is go and relax at the pool. Luckily, Central Oregon has a handful of great places to soak up the sun in between cooling off in the water.

Hopless in Central Oregon: Experience Scenic Cideries and Vino with a View

In an area dominated by craft beer, you might be wondering is there anything else on tap? The answer is, 'Yes'. Central Oregon is home to award winning cideries and wineries and with postcard-worthy views from their tasting rooms – you won't be disappointed. Named after the Three Sisters, Faith Hope and Charity Vineyards is just over 30 miles from Bend. It's hard to complain about the drive though when furry faces from the Alpaca farm nearby greet you right before you turn onto the property.

Dining & Culinary Tours

The dining options in Central Oregon cover the gamut from Pacific Northwest specialties to global cuisine, and food carts offering every atmosphere, from casual to elegant. Burgers and fries, Thai and sushi, Continental and Northwest, French, Italian and Mexican, Central Oregon's cuisine offers a local take on global fare to please anyone's palate.

Accessible Adventure: Easy Hikes for Families near Bend, Oregon

There are so many great hikes in Central Oregon, it can be tough to choose where to start. For beginner hikers or families here's a couple of easy to get to – and more importantly – easy to conquer starter-hikes. Flanking the Deschutes River near Bend's Old Mill District, the Deschutes River Trail is a 3-mile loop that starts near Farewell Bend Park.

Casual Family Weekend in Sunriver

Imagine this: you're riding your bike through a rolling meadow, the Cascade mountain range in the background, and the only sound is from the whir of a prop plane taking off against a crisp blue sky. Up ahead, your children pull carrots from their pockets and present them to a gathering of friendly horses in an adjacent pasture.

Winter Isn't Only About Snow in Central Oregon

It's true that when winter rolls around in Central Oregon, most people's minds veer toward things to do in the snow. With Mt. Bachelor, Hoodoo, sno-parks and more, there's plenty of options for folks to get out and play.

Get Your "Ah-Ha" Beer Moment at Sunriver Brewing Company

Central Oregon can claim more breweries than quite a few states. We're not exaggerating. Our region has 30+ breweries. That shows how much we care about craft beer but, it can make it tough to choose where to taste local brews, we get it!

Grab a Pint & Catch a Game Central Oregon Style

Yes, Central Oregon is known as an outdoor adventure paradise where hiking, mountain biking and skiing are a way of life and the reason many people visit. But sometimes your team's got a big game. And all you really want to do – even on your vacation – is find a great spot to watch it with a few more diehard fans.

Winter Ales: How Deschutes Popularized the Style-and How Breweries Have Followed Suit in Central Oregon

In the summer of 1988, Deschutes Brewery opened in a converted law office in downtown Bend. In the decades since, the brewery has produced one memorable beer after another—from Black Butte Porter and Mirror Pond Pale Ale in Deschutes' earliest days to the hit Fresh Squeezed IPA, which became a staple on store shelves in 2013.